The Good Place
, is an all kinds of delightful comedy. It's smart and funny...something I'd happily recommend.
Do I really need to tell you anything about
This Is Us
? I love this show, there has not been an episode where I don't at least sniffle. Randal and Beth are just such an amazing couple, hands down my favourite of the Pearsons.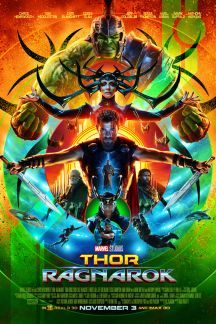 Jerall and I watched
Thor: Ragnarok
yesterday. It's an all kinds of fun watch. Really enjoyable, and more Guardians of the Galaxy than Guardians :p
So
Stranger Things 2
took a bit to really get going, but when it did it was all kinds of good. I really enjoy how the characters all got to develop - Steve for best tv mom. And I'm in awe of just how talented the younger members of the cast are, especially the actor playing Will. I'm blown away by him.
I'm late to the wonder that is
Jane the Virgin
, but at least I can watch it without cliff hangers :p I'm currently on the 8th episode of season two. So no spoilers please. Team Michael all the way! It's funny, it's smart, it's utterly enjoyable and the first 2 seasons are on showmax :p
What are you watching? Seen anything great lately you're happy to recommend to others?