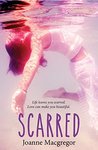 This review has some spoilers, read on at your own risk.
I enjoyed that this was a slightly different love story, than those found of late in YA. Yes, it's girl meets boy there's tension, that's solved, then there's a thing, the break up and it ends with them getting back together. But, and this is a big but what Sloane and Luke have going on in their lives coming into the relationship is very different to the usual.
After all it's not everyday that the person you're interested in is the relative of someone in your family (yes, it's for both of them). It's not often in the story that both the girl and the boy have things they're hiding from others, and it's not something they instantly bond over. As I mentioned before there are parts of this similar to other stories, but so much of it is a very different take on it all.
I especially enjoyed, that even those it is a first person narrative, there are moments where we get Luke as the narrator. It helped pace the story - and provided some details that helped me tame those moments of "I need to climb into the book and slap some sense into them." I also enjoyed the character growth of the two, the spunky friend, and the comeuppance for others.
Not such a fan of the bullying, the school shooting and the accident flash backs - any of the three could be a trigger for the unsuspecting reader.
*This is another one of those lucky fish books.*