I was looking for something quick and easy to get ready as a post, and then I remembered that I should share how my reading month went :)
I am 32% to my reading goal, with 15 books being read in February. My pace has slowed down quite a bit compared to January, and I know that it's because of the steady increase in academic reading.
Here are some reviews from the Feb reads that I enjoyed the most: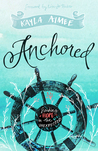 Anchored: Finding Hope in the Unexpected
by
Kayla Aimee
My rating:
5 of 5 stars
I was a reader of Kayla Aimee's blog before this happened. And during the time when Scarlette was in hospital I was always astounded by her strength. This book, just confirmed that during it all, despite feeling all that she was feeling...she still had an amazing strength. She has given her daughter another rung on the ladder of the powerful legacy she wanted to give her with naming her for her grandmother.
View all my reviews
The Cathedral of Cliffdale
by
Melissa Delport
My rating:
5 of 5 stars
This books is an amazing start to what seems will a knock it out of the park series. I love the protagonist, Quinn. She is all that you would expect from someone who has lead the life that she has. Her fierce determination to protect, and care for those she loves is shown time and time again as a core part of who she is that drives her actions.
The parts of the book that dovetails into other stories, isn't for me. I want this to be the Quinn and Drake show all the time ;)
It's a wonderful read, that keeps you reading. I finished it in a day, and can't wait to get the others so that I can do another deep dive.
View all my reviews

Acne, Asthma, and Other Signs You Might Be Half Dragon
by
Rena Rocford
My rating:
4 of 5 stars
An all-round fun read.
View all my reviews
How (Not) to Kiss a Prince
by
Elizabeth A. Reeves
My rating:
4 of 5 stars
A light, fun, easy read. I wouldn't say no to reading more by this author.
View all my reviews
The Vampire's Mail Order Bride
by
Kristen Painter
My rating:
4 of 5 stars
A cute, fun and easy read.
What was your Feb reading month like?